SICE Organized International Students to Visit Tongzhou Bay Demonstration Area
date:2020-07-31 16:09:18 editor:english page view:
5
操作>>
SICE Organized International Students to Visit Tongzhou Bay Demonstration Area
In order to enrich the summer vacation life of international students and let them have a deeper understanding of the rapid development of their second hometown----Nantong, SICE has carefully organized a variety of practical activities inside and outside the university.
On July 29, SICE organized all the international students to visit Tongzhou Bay Demonstration Area. After arriving at Tongzhou Bay business building in the morning, the students were warmly received by Tongzhou Bay Organization and Personnel Bureau. Our international students watched the publicity film of Tongzhou Bay and learned about the formation and development of Tongzhou Bay.
Then, all the international students came to Nantong Sumin New Energy Technology Co. Ltd. to learn the production process of photovoltaic cells, and then listened to the company's professionals on its main power, heat production and related technical services in Huarui (Jiangsu) gas turbine Service Co. Ltd. The students were deeply impressed with the production concept of new energy as the leading factor of the two companies. They exchanged technologies and products with the company's receptionists, and explored the possibility of introducing advanced concepts and technologies back home in the future.
In the afternoon, the students visited Jiangsu Daoda Wind Power Equipment Technology Co. Ltd., a heavy industry enterprise focusing on offshore engineering and offshore wind power engineering and equipment. The students were amazed at the company's Giant Gantry Crane and the subsea frame installation vessel of wind turbine generator. They studied and discussed the facilities related to the major of foreign students on the construction site, and deepened the understanding of professional knowledge and skills during the visit. The students also visited Tongzhou Bay Science and Technology Innovation City, a new demonstration city of industry city integration.
This activity is the second phase of a series of off campus social practice. On July 22, SICE organized international students to visit the Shanghai Sutong Yangtze River Highway-Railway Bridge. After the practice, the overseas students cannot help but sigh: the leadership of the Communist Party of China is the key code to create one "Chinese miracle" after another.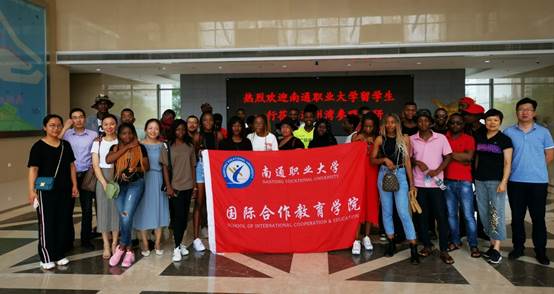 (Source: School of International Cooperation & Education; Photo: Pang Demi; Text: Lu Qingquan; English Editor: Chen Xiaoqin)